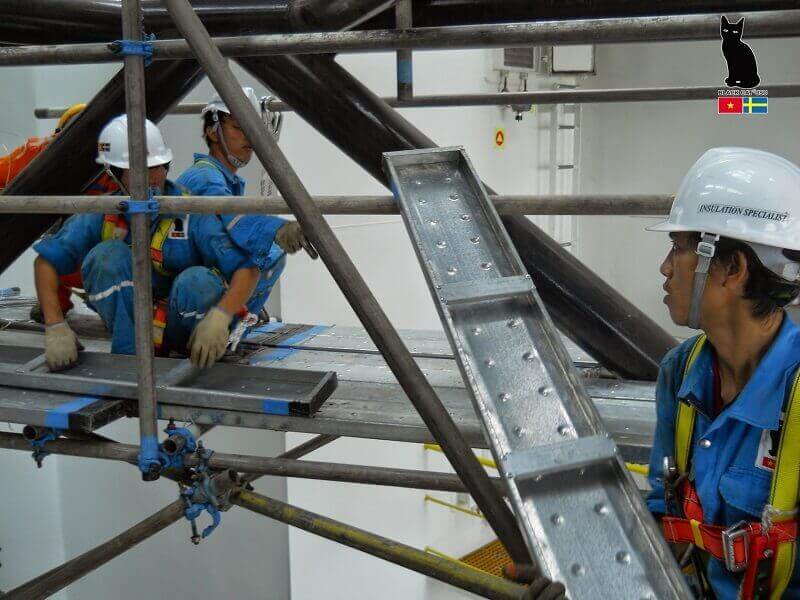 BS1139 Standard For Scaffold Materials
By admin . April 18, 2017 | News
Talk about BS 1139 Scaffolding, the name is quite strange for the Vietnamese market, but this is a very popular standard for developed countries in the world, strict requirements for quality and security of scaffolding is often applied for oil and gas market, refineries, thermal power, and industrial. BS 1139 is a British standard of scaffolding materials, certified and trusted in most of Europe, widely used in civil and building structure.
What Is BS 1139 Scaffolding ?
BS 1139 is the standard that specifies the specifications for size, length, thickness, type of material, load capacity, etc. of scaffolding materials, including tubes tightly linked by a fitting system of clamps, couplers, putlog, boards, ladders, etc., forming a tube and fittings scaffolding system.
What Are The Detailed Parameters For BS 1139 Scaffolding System?
Tubes:
Outside diameter (including ovality): 48.3 mm (± 0.5 mm).

Wall thickness: 3.2 mm; 3.6 mm; 3.8 mm; 4.0 mm.

Material: steel, hot-dip galvanized steel, anti-corrosion, long life.

Requirements: Reach the hardness and tensile strength according to BS 1139 standard. The tubes shall have a circular profile. And the deviation from straight shall not exceed 3 mm in any one metre and the maximum deviation over the full length L of the tube shall not exceed 0,002L.
Scaffold Clamps, Couplers:
Include: Double clamp, swivel clamp, sleeve coupler, putlog, girder coupler, …

Material: steel, galvanized steel, anti-corrosion, long life.

Requirements: Reach the hardness and tensile strength according to BS 1139 standard.

Application: The Scaffolding fittings are used to link and keep fixed two sections of tubes together with a diameter of 42 to 49 mm and keep fixed beams and boards with tubes to ensure rigidity and no shaking.
Scaffolding boards:
Width: 310 mm – 360 mm.

Length: 1000 mm, 1500 mm, 2000 mm, 3000 mm.

Thickness: 1.2 mm, 1.5 mm.

Material: Zinc plate, Hot dip steel, anti-corrosion, long life.

Requirements: Reach the hardness and tensile strength according to BS 1139 standard. Flat surface with non-slip holes. There are safety locks.

Application: Used to create a working space for working more conveniently and easily.
What Is The Meaning Of Scaffolding Standard BS 1139?
Using BS 1139 Scaffolding is one of the necessary scaffolding requirements that units need to follow, by complying with calculated standards and issued by the Ministry of Construction. It will helps ensure the safety for the construction process.

In addition, scaffolding is one of the important sector to decide the success or failure of construction works, so that construction scaffolding need to have certain evaluation and production criteria to ensure the safety for construction as well as the effectiveness of the works.
Installing The BS 1139 Tube & Fittings Scaffolding System Requires High Knowledge And Skills!
In order to be able to  install a tube & fittings scaffolding in the correct, workers must be trained in a methodical and intensive way to have enough knowledge and skills for installing, adjustment and dismantling of common tube scaffold systems.
Currently in Vietnam, just a few units providing scaffolding installation services following BS 1139 standard and Black Cat is one of those.
Black Cat Insulation Technical Joint Stock Company (Black Cat) is a leading company in Vietnam industrial market providing services of installation, adjustment and dismantling of BS 1139 scaffolding systems and complying TG20 – UK. Throughout the time on market, complying with advanced standards and processes helps Black Cat ensure quality of service as well as safety in all projects.
Moreover, Black Cat is also the only unit in Southeast Asia to organize the Training of skills, knowledge of installation, inspection and supervision of the tube & fitting scaffold system according to British standards, CISRS OSTS, is the preferred level of scaffolding for all well-known organizations including CSCS, NASC, HSE, Build UK, UNITE and the largest scaffold manufacturers.
Learn more about our Scaffolding Services or contact us directly to clarify your requirements: +84 (254) 3577 450 and Email: sales@blackcatjsc.com .vn