Scaffolder Level 1
Course information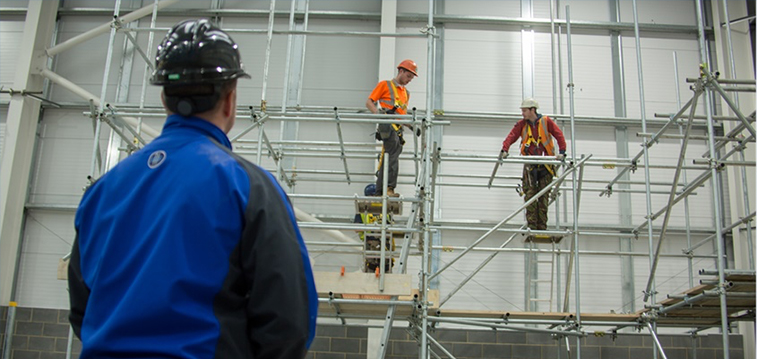 Tube & Fitting or System Scaffolding
Attendees:
This course is aimed at trainee scaffolders who require basic scaffolding skills training.
Maximum of 12 attendees per class.
Objectives:
To give the attendees such knowledge and skills to enable them to erect, alter and dismantle basic scaffolding structures in traditional tube and fitting and common system scaffolds. Level 1 Scaffolders should only carry out the erection and dismantling of scaffold structures covered within course. They are competent to work as part of a team, but must not lead operations if the work is outside the scope of the training, adequate direct supervision is required at all times.
Content:
Core theory units
General Health and Safety Awareness.
International Best Practice.
International Performance Standards
Local Legal Requirements.
Components/Materials recognition.
Manual Handling (SG6).
Fall Prevention (SG4).
Foundations/Integrity and stability (Bracing & Ties etc).
Access & Egress.
Fractical units
Static and Mobile Tower (2 Lifts including foot tie – 2 static and 1 mobile for demo).
Independent with Return (2 Lifts including foot tie).
Nine Standard Birdcage Scaffold (2 lifts including foot tie).
Practical/Theory Test.
Certification:
Successful delegates will receive an Overseas Scaffolder Level 1 Certificate of Training and Record Card. (Renewed every 5 years)
Notes:
Instruction is delivered in English and Vietnamese.
Learners to attend training will be provided with safety harness, boots, hardhat, level, tape, spanners/hammer.


ONLY IN THE 4rd QUARTER


THE NEAREST COURSE COMING UP ON DECEMBER 2019

Scaffolder Level 1 Certificate valid for 5 years
Trainee scaffolders, Scaffolders and Site Agents