Scaffolder Level 2
Course information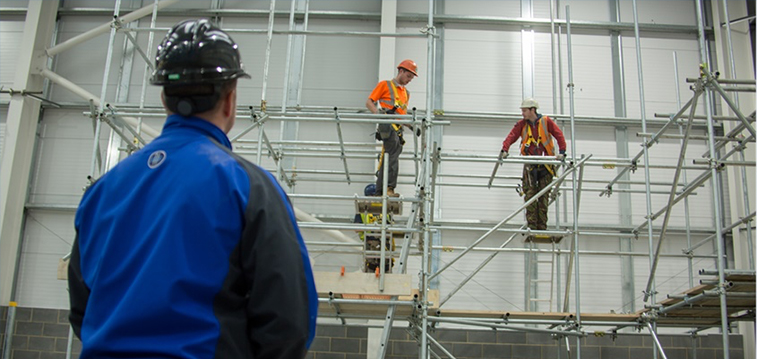 Tube & Fitting or System Scaffolding
Attendees:
Delegates must complete the CISRS Level 1 Overseas Scaffolder 5 day course and have held the card for at least 6 months.
Objectives:
To give the attendees such knowledge and skills to enable them to erect, alter and dismantle scaffolding structures of an intermediate complexity in traditional tube and fitting and common system scaffolds. Level 2 Scaffolders should only carry out the erection and dismantling of scaffold structures covered within course. They are competent to work as part of a team, but must not lead operations if the work is outside the scope of the training, adequate direct supervision is required at all times.
Content:
Core theory units
International Best Practice.
International Performance Standards
Local Legal Requirements.
Components/Materials recognition.
Working with Scaffold Designs.
Manual Handling (SG6).
Fall Prevention (SG4).
Foundations/Integrity and stability (Bracing & Ties etc).
Access & Egress.
Fractical units
Static and Mobile Tower (not aluminum).
Independent (3 lifts) with Return and Protection Fan or Crash Deck.
Edge Protection/Handrails.
Loading Bay.
Access Ramp.
Practical/Theory Test.
Certification:
Successful delegates will receive an Overseas Scaffolder Level 2 Certificate of Training and Record Card. (Renewed every 5 years)
Notes:
Instruction is delivered in English and Vietnamese.
Six months site experience is requiring following the course before the learner can proceed to L3 training.
Learners to attend training will be provided with safety harness, boots, hardhat, level, tape, spanners/hammer.


THE ONLY IN YEAR


THE NEAREST COURSE COMING UP ON DECEMBER 2019

Scaffolder Level 2 Certificate valid for 5 years
Trainee scaffolders, Scaffolders and Site Agents
DO YOU HAVE A QUESTION?
Interested in booking this course but need to firm a few things up? Call our booking team on 84 (254) 3577450 or drop them a message using the button below and we'll get back to you.
Related courses: