Basic Scaffold Inspection
Course information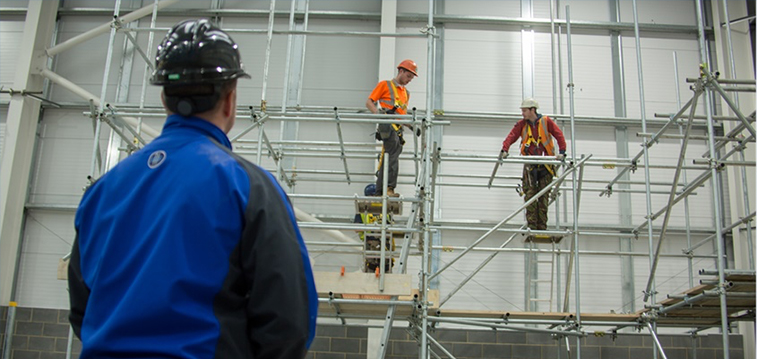 This course is intended for persons responsible for inspecting and checking basic scaffolds for safe use and for signing certificates and registers in accordance with statutory regulations. The overall aim is to develop an understanding of scaffold components, forms of construction and inspection procedures of basic access scaffolds and to comply with current legislation and Codes of Practice.
Course Specification
Attendees:
This course is aimed at those who are required to carry out safety  inspections for basic access, working and special scaffolds.
Maximum of 12 attendees per class.
Objectives:
To give the attendees such knowledge and skills to enable them to inspect basic access, working and special scaffolds and complete safety inspection reports.
Content:
The course will give trainees an understanding of:
Introduction to Scaffolding & Scaffolding Terminology.
International Performance Standards.
International Best Practice & Industry Standards (NASC).
Overview of Fall Prevention in Scaffolding.
Tube, fittings & Boards.
Safe access and egress.
Scaffolders training and working methods.
Bracing and tying scaffolds.
Mobile, static and loading towers.
Birdcage scaffolds.
Beams and bridging beams.
Public protection.
Various types of system scaffolding.
How to carry out a scaffolding inspection.
Scaffold Inspection Reports & Scaffold Tagging Systems.
Practical Scaffold Inspection Exercises.
Knowledge Test and Assessment.
Certification:
Successful delegates will receive a CISRS Overseas Basic Scaffold Inspector Certificate of Training and Record Card.
Notes:
The Scaffold Inspection qualification requires renewal within every five years. Trainees will be provided suitable PPE to undertake practical scaffold inspection.


IN THE 4rd QUARTER


THE NEAREST COURSE COMING UP ON DECEMBER, 2019

Basic Scaffold Inspection certificate valid for 5 years
Scaffolders, Managers, Supervisors and Site Agents
DO YOU HAVE A QUESTION?
Interested in booking this course but need to firm a few things up? Call our booking team on 84 (254) 3577450 or drop them a message using the button below and we'll get back to you.
Related courses: