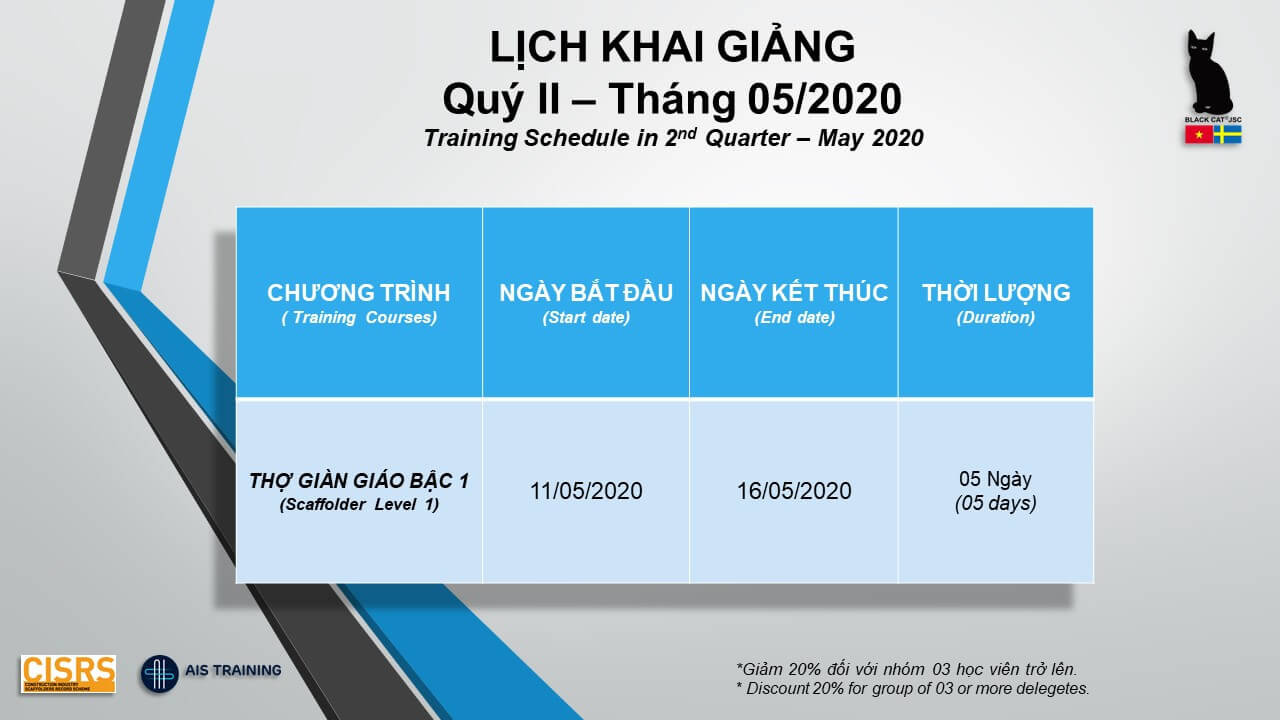 Announcement Of The Opening Schedule Of International Standard Bs1139 Scaffolding Courses – CISRS
By admin . May 06, 2020 | News

Black Cat is proud to be the only unit coordinate with AIS-Training – a leading unit providing training courses in the United Kingdom, bring to Vietnam as well as Southeast Asia industrial market much scaffold training courses certified by CISRS (Construction Industries Scaffolders Record Scheme) – UK.
The training programs certified for 40 years.

Be scaffold standard of well-known organization such as CSCS, NASC, UK Construction Association,…

Certified for 60.000 students in the UK and 5.000 students overseas students.

Accredited and be a condition for construction in almost all buildings requiring high safety.
Black Cat annouce the opening on 2nd Quarter – May 2020:
May 11th,  2020: 

Scaffolder Level 1
To give the attendees such knowledge and skills to enable them to erect, alter and dismantle basic scaffolding structures in traditional tube and fitting and common system scaffolds. Level 1 Scaffolders should only carry out the erection and dismantling of scaffold structures covered within course. They are competent to work as part of a team, but must not lead operations if the work is outside the scope of the training, adequate direct supervision is required at all times.

Black Cat Training offers many incentives and support when choosing courses from the Black Cat Training Center:
Discount 10% for registering group of 2 or more delegates.

Discount 20% for registering group of 3 or more delegates.

Allowing payment of partial tuition.

Textbooks and learning materials are free.

To be equipped with protective equipment and practical tools during the training process.

Conducting training at customer's site (Meet the teaching conditions) if the number of registered delegates enough for a class (12 delegates) or more.
Find out more on our Website: Black Cat Training or call us: +84(254)3577450 –(ext:102) / Email: training@blackcatjsc.com.vn / Messenger: BlackCatJSC
RELATED POSTS:
> First CISRS Approved Scaffolding Training Centre Opens In Doha

> Reputable Scaffold Contractor In Vietnam

> BS 1139 Standard For Scaffold Materials
One response to "Announcement Of The Opening Schedule Of International Standard Bs1139 Scaffolding Courses – CISRS"