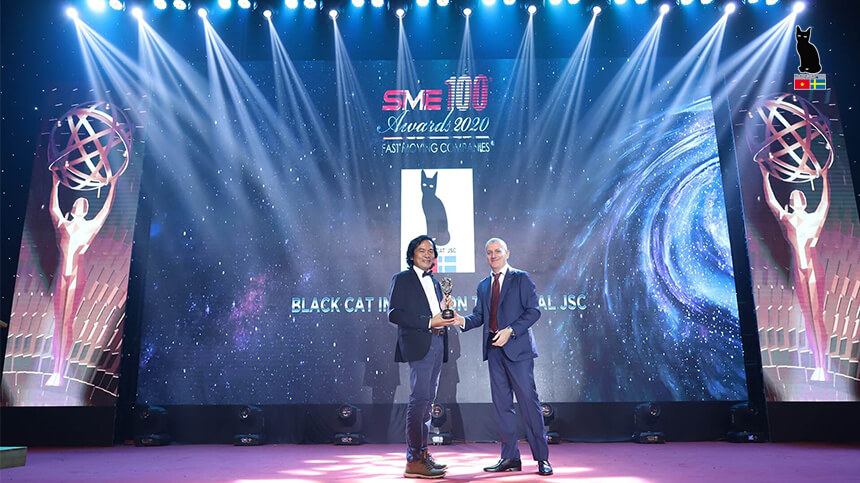 Black Cat Received The Prestigious SME100 Asia Award 2020
By admin . December 29, 2020 | News
Recently, Black Cat Insulation Joint Stock Company was honored to receive the SME100 Asia Award – Regional Fast-moving Small and Medium Enterprise 2020 (SME100 – Fast Moving Companies 2020) nominated by SME Asia Magazine.
The SME100 Asia Awards was considered the region's premier award for SMEs that have been successfully held in Malaysia, Singapore and Indonesia. All winner are required to go through an evaluation process that includes a mandatory business performance assessment and interviews with an Assessment Council Representative. This year, the Award has been held for the first time in Vietnam and Black Cat Insulation Technical Joint Stock Company was honored to be present in the list of winners.
Black Cat, Loyal To The Sustainable Development Strategy
Founded in 2011, providing industrial services: Insulation, Scaffolding, Industrial paint, Passive fire-proofing and construction of Refractory materials, Black Cat Insulation Technical Joint Stock Company (Black Cat) has built trust of the investors and general contractors with worthy service quality, engraving our name and made quite impact in the industrial construction field in Vietnam and the region.
Loyal to the sustainable development strategy, orienting to focus on key areas of insulation and scaffolding, Black Cat has gradually achieved its ambition to become a high-class service company with a high position in our field, contributing to prosperity for customers and bringing happiness for the community.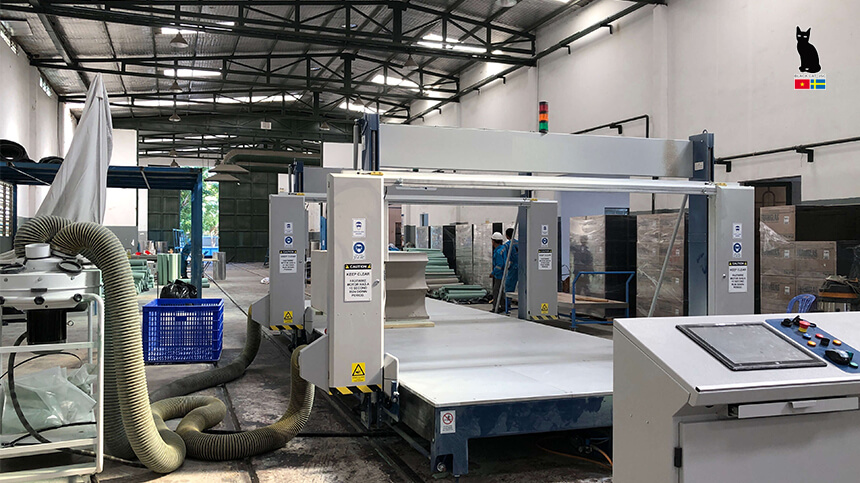 Black Cat, Technological Innovation And Impressive Numbers
Due to its passion, determination in target and orientation, Black Cat overcame many difficulties and recorded specific results.
In 2018, following the momentum of development, Black Cat expanded its market and diversified its customer base from Food and Beverage field to energy, oil and gas, petrochemical, industrial construction fields, … Revenue has increased approximately 20.7% and Profit after tax was 3 times higher than 2017.
In 2019, due to the strongly investment in management, automatic machinery and equipment to increase productivity to meet the speed of fabricating and supply products for the projects. With a team of highly qualified engineers executing programming and operating CNC fiber laser cutting system, processing metal sheet for insulation and block foam Twin Fastwire contour cutting system, imported from Australia. Accelerating the application of automation technology help us increases productivity 6 times, while reducing wastage and dust up to 50%. Besides, the quality of products is completed precisely and evenly. With this technological innovation, Black Cat achieved revenue of 6.14 million USD, as double as previous year.
In 2020, Black Cat continues to invest an additional 2000 tons of BS 1139 standard scaffold, thousands of cubic meters of insulation materials to provide services for key project – Long Son Petrochemical Complex Project, at Ba Ria – Vung Tau, to be handed over in 2021 and 2022. We expect average revenue growth rate to be of 40% annually. This will be a solid basis for Black Cat to have great developments in the future.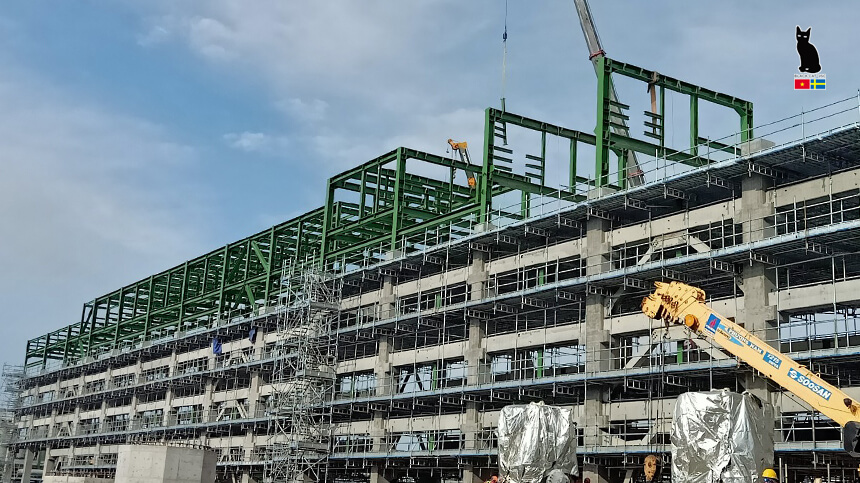 Black Cat, Journey To The Great Ocean
There is a saying, "If you want to go fast, go alone; If you want to go far, let's go together ", Black Cat is very confident for the beginning of the journey because we have connected and received trust from big EPC contractors such as như Hyundai E&C, TTCL, Samsung C&T, Doosan as well as energy companies like Siemens, GE Alstom in Vietnam, Southeast Asian countries and especially reaching out to the markets of South America (Chile), West Africa (Nigeria).
Black Cat is also an outsourcing unit, distributor for well-known insulation brands such as Rockwool, Pittsburgh Corning, Kingspan…By ourselves, Black Cat has founded the first and only Scaffolding Training Center in Southeast Asia approved to train scaffolding according to CISRS UK program to ensure the service is performed at the highest level of safety.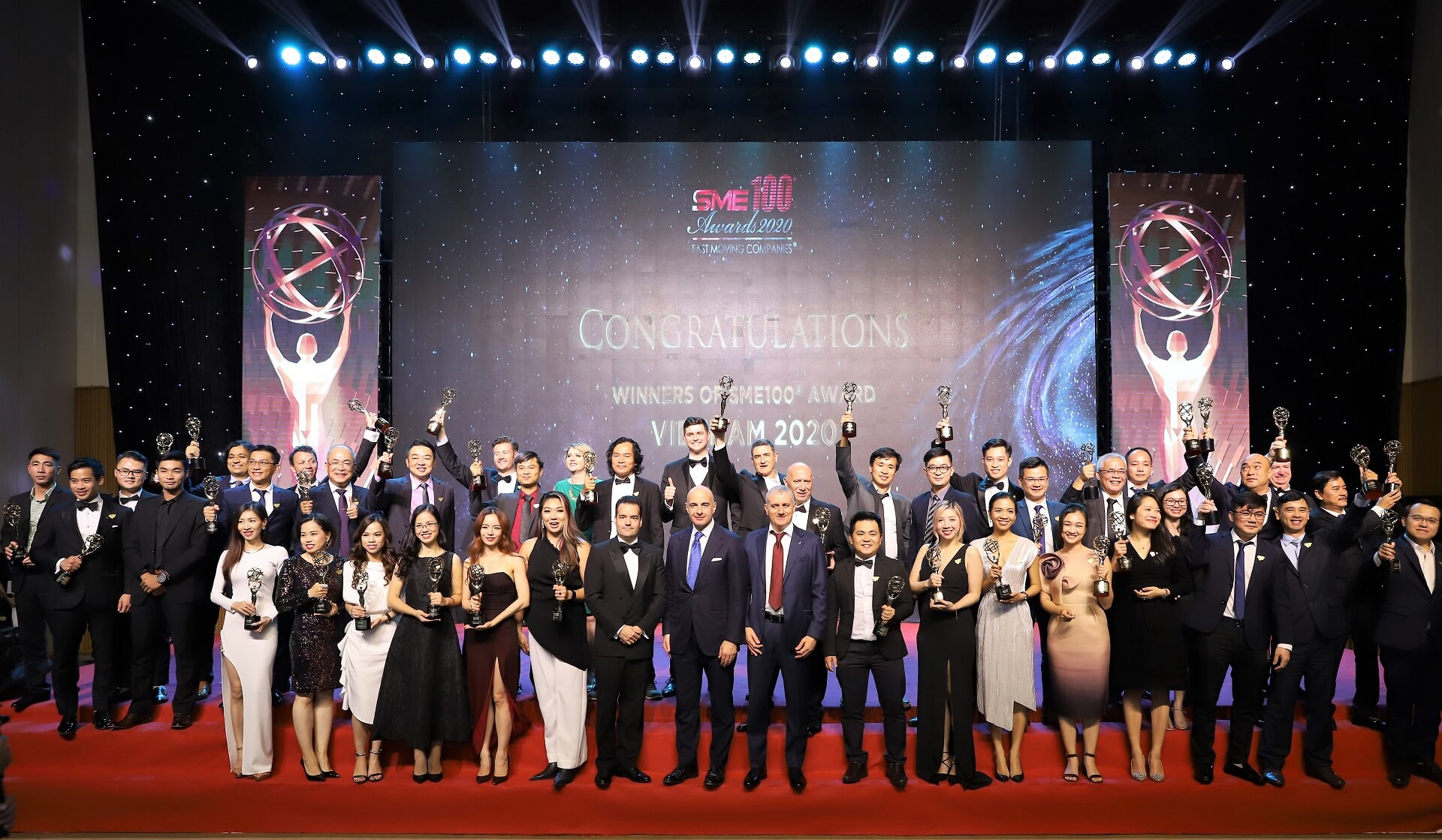 Black Cat Deserve To Be The Recipient Of The SME100® Awards
The combination of quality (proven through branded material suppliers), Prestige (proven through illustrious customers) and Safety, the name of Black Cat has become the most reliable brand in its operated field. Today, Black Cat entered the Top 100 fast-moving Asian Small and Medium Enterprise, nominated by SME100® Magazine.
We have witnessed many difficulties, ups and downs. After 9 years of operation, we have gained significantly numbers of achievement, but it does not make us proud by creating a very unique corporate culture and has become the core value of Black Cat: "We build Quality, Safety and Happiness". And this is also the guideline for all Black Cat's activities.
> 38 Vietnamese enterprises received the SME100 Asia Awards 2020

(

www.thanhnien.vn

)
> The newspapers reported:
Some pictures at the event: