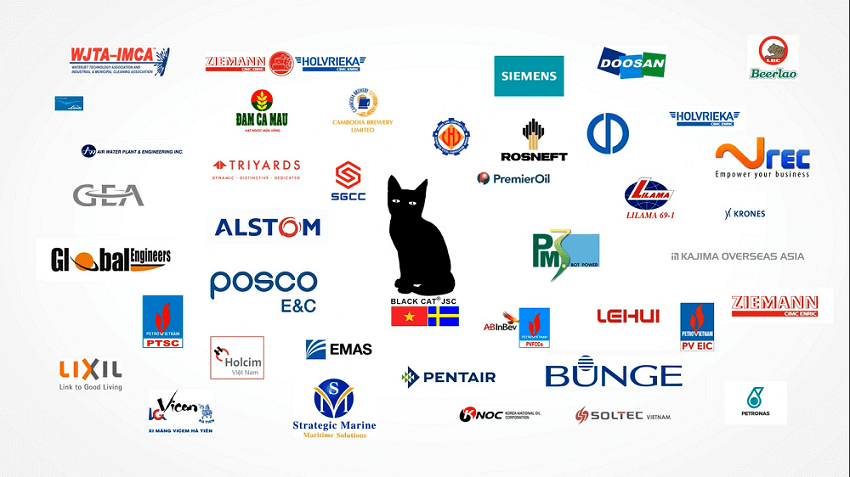 Black Cat Bring Quality To The World
By admin . June 13, 2019 | News
Referring to insulation and scaffolding industry, it must be no stranger to the name Black Cat – Black Cats Insulation Technology Joint Stock Company. With over 8 years in the industrial market, Black Cat specializes in providing package services on Insulation, Scaffolding, Painting, Fireproofing, Refractory and Training, with the slogan "We build Quality, Safety and Happiness ". Because Black Cat always be aware that Happiness is the Safety and product Quality that we bring in every project.That mindset is carried by each worker to each project, contributing to the construction of successful projects that ensure safety and quality. This gives Black Cat the solid reputation, the precious trust that every customer working with Black Cat give. Proof is a lot of awards, appreciation that customers have give Black Cat's collective through hundreds of thousands of man hours without lost time injury. Or for the positive contributions, the Black Cat team always strive to achieve the goals that both the investor and the contractor set out.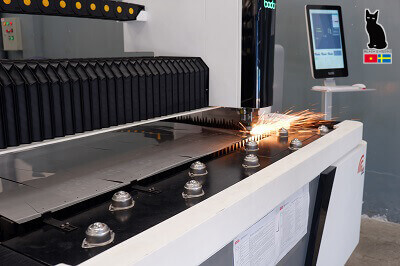 "Make In Vietnam" And The New Wave For Traditional Market
Along with the wave of investment moves into Vietnam, many foreign companies are licensed to build new and expand production plants. The Ministry of Information and Communications also broadcast the message "Make in Vietnam" which desire Vietnam to become a global production center.
Catching up with that wave, in order to meet the strong increased demand of the industrial insulation market, Black Cat also boosted the insulation manufacturing segment, including Cladding. Investing in automatic technology system with Laser Fiber Cutting Machines, allows to cut a large amount of insulation cladding of stainless steel, aluminum, … with different thickness and shape, calculated and Detailed by professional computer system. Black Cat is more active in time, work progress, limiting redundancies left by the manual method. And above all, ensuring the maintenance of the quality equally, well controlling the input materials according to estimates, reducing costs and improving productivity and quality of products. This helps Black Cat began to assert itself, expand and dominate the traditional domestic market stretching from North to South with National projects such as VinFast Automobile  Plant, Thermal Power Plants, The Heineken Vietnam Brewery and upcoming is the Long Son Petrochemical project, which will be built in Long Son, Ba Ria – Vung Tau province. Besides, Black Cat also receive the appreciation form the market of countries in the region such as Laos, Cambodia, Myanmar, Philipine, Malaysia, … for the Black Cat Insulation service.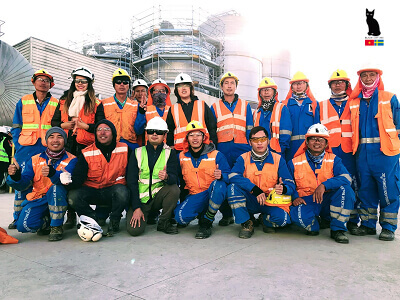 Black Cat Reaching The International Market
Be known to its quality and safety brand, besides providing high quality products for the industrial market, Black Cat also train employees to be aware of safety at work. The proof is that during the past time, Black Cat was honored to receive the praise from contractors and investors with hundreds of thousands of safe working hours, committed to project progress and quality on each product.
Since, the brand image of Black Cat has always been highly appreciated by domestic and foreign enterprises. Incessantly developing, in 2019, Black Cat continuously won big foreign projects with a total value of millions of US Dollar. Last January, Black Cat was proud to be selected as a contractor providing insulation services for ABInbev Brewery in Santiago, Chile. This is the first time Black Cat set foot on the South American market, marking a strong step of our business on this developed continent. Through that, with a experienced team, Black Cat completed the insulation project for beer ferment tank within 3 months, exported insulation metal cladding, calculated and fabricated in the Company's workshop in Vietnam. This helps Black Cat leave good impression on the Vietnamese industry in the eyes of customers, investors, as well as contractors in this ABInbev Brewery project.
Moreover, recently, when Black Cat was trusted to be the contractor for the turn-key insulation package for 4 San Miguel Breweries, will be built within 2 years in Philippines in July. This is also the first time Black Cat has won a project in the Philippines with a contract value of million US Dollar. And until now, it can be said that Black Cat has provided services covering most of Southeast Asia market. Not only Southeast Asia market, Black Cat also attracted the attention of many businesses from Korea, Japan, Germany, Holland, … participating in projects in Vietnam and around the world.
Leave EMAIL for us or contact us directly via Telephone number: +84 254 3577 450 to receive total solutions for your construction.
"We Build Quality, Safety And Happiness"
One response to "Black Cat Bring Quality To The World"