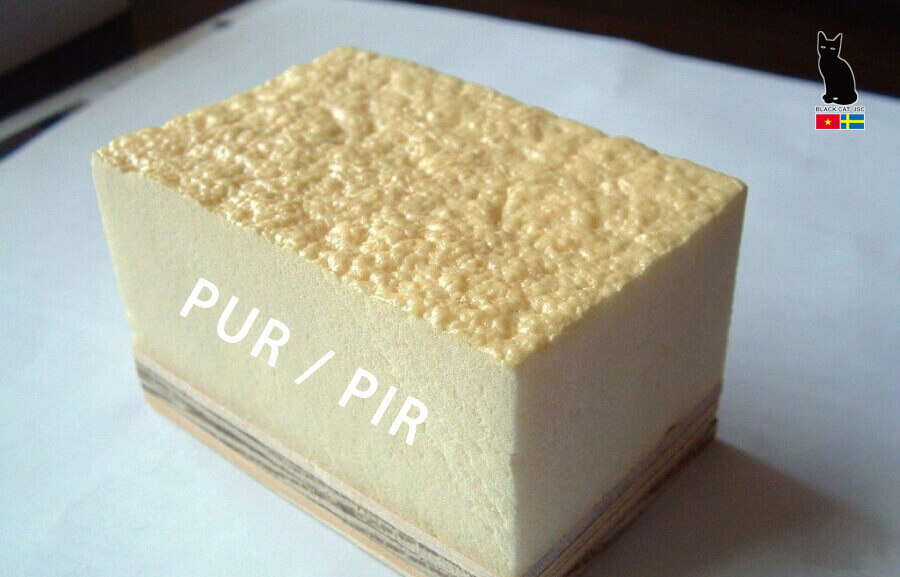 PUR/ PIR – Advanced Cold Insulation Solution
By admin . May 24, 2019 | News
Insulation in general and cold insulation in particular, there are many types of materials which diverse both in types, designs and quality such as glass wool, mineral wool, PU Foam, PE-OPP Foam, XPS panel, … among them, Polyurethane (PUR) and Polyisocyanurate (PIR) are included.
PUR and PIR materials are synthetic rubber under hard foamed shape, made up of two main types of liquids: Polyol and the second liquid is combination of polymethylene, polyphynyl and Isocyanate. As substance A and substance B, to achieve hardness and density in each specific case, these two chemicals will be mixed in a certain proportion by a specialized pump.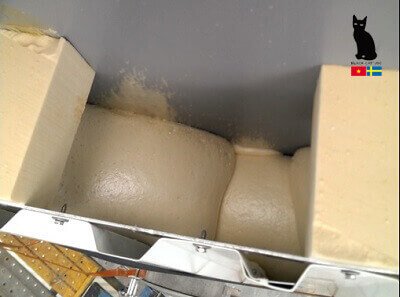 Comparison Of Polyisocyanrate (PIR) And Polyurethane (PUR)
Polyurethane (PUR) is an insulation compound, used for cold insulation in industry, currently, being used in Vietnam and around the world popularly.
In terms of chemical structure, the urethane bonds of PUR have an unstable hydrogen atom and it separates at relatively low temperatures. In contrast, the isocyanurate bonds of PIR has no unstable hydrogen atom. This is the reason for the high thermal stability of Polyisocyanurate foam (PIR).
In terms of physical properties and fire resistance, PIR is better than PUR especially in terms of cold insulation and retarding combustion performance. PIR can be used in the required temperature range of pipes and tank equipment in the temperature range of -196oC to 150oC, it also provides the best of effectiveness and stability for cold insulation for Liquefied Nitrogen (LN , -196oC), Liquefied Natural Gas (LNG, -162oC), Liquefied Ethylene (LEG, -104oC). With the fireproof properties better than PUR, the price of PIR is also slightly higher than that of PUR.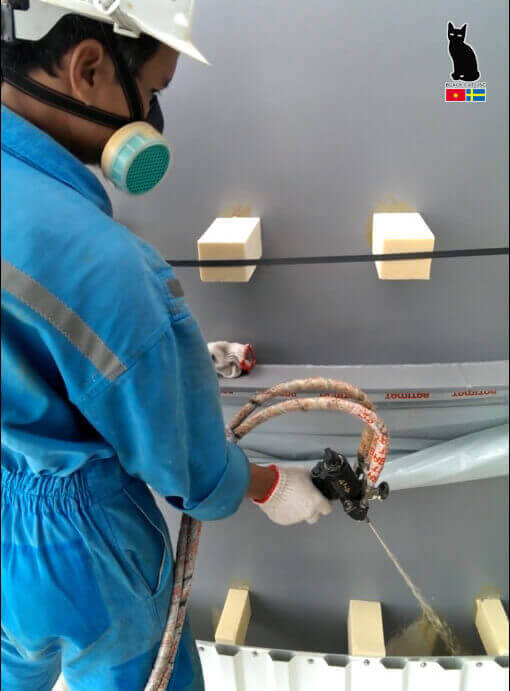 Insulation Foam Is The Material For Modern Insulation Industry
Currently, Insulation Foam is a significant breakthrough in the insulation industry, the best thermal insulation material in the world:
– Ensuring the filling of all shapes, slit would prevent the leakage of gas completely, maximizing the ability of waterproofing, reducing noise from inside and outside.
– Providing a completely seamless insulation system, without joints will help to save up to 60% of energy costs.
– Insulation Foam have cover ability, help to increase the durability of materials up to 300%.
– Quick hardening properties, insulation foam sprayed on most of surfaces: vertically, inclined, ceiling, … Used on most of materials such as steel, aluminum, plastic, concrete, wood , …
– Provides excellent waterproofing ability by the molecular structure of airtight bubble form.
– It is a extreme durable material with high compressive and abrasion strength, long life, which helps to save costs.
– It has characteristics of heat resistance and fireproofing , prevent the spread of flame.
Disadvantages And Effects That Insulation Foam Can Leave
Except the advantages above, insulation foam also has some drawbacks:
– Charging of PU Foam requires specialized machinery and equipment systems and requires workers with professional and well-trained qualifications.
– It is an advanced material with a lot of advantages and requires high condition. So that, the price of Insulation Foam is also higher than other traditional insulation materials.
– In terms of environment and health: during fabrication of Insulation foam, they often add a small amount of expansion aids to make the PUR / PIR foam more dense, better cushioning. In the early 1990, due to their impact on ozone depletion, the Montreal Protocol limited the using of a variety of chlorinated auxiliaries such as trichlorofluoromethane (CFC-11). At the same time the using of thiner in the construction process of insulation foam creates an unpleasant odor, affecting both the health of the workers and surrounding environment and Foam insulation is also considered a hazardous waste. However, til now, the using of chlorinated auxiliaries in PUR production process is still commonly used in developing countries.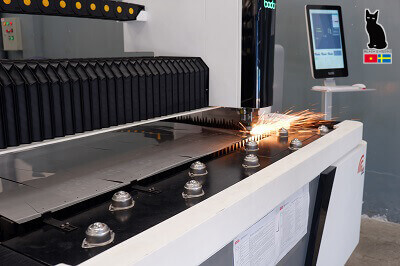 Totally Solution For Producing Of Cold Insulation PUR/ PIR
Black Cat is a prestigious unit in cold insulation industry with many years of construction of PUR / PIR insulation foam for piping systems of Air Water Gas Plant, Viet Nhat Gas Plant or tank system for Khmer Beer, Calsberg Laos, Heineken Vietnam Brewery, …
• Using high quality imported materials, specialized spray equipment Graco from USA with large capacity.
• Experienced construction team, highly qualified and well-trained with a team of professional engineers. Black Cat can completely calculate exactly the size of the required scop of work at the Workshop with a advanced computer system.
• Working of fabrication and forming machining (Cut into size) by CNC automatic cutting machine at the Workshop with advanced waste treatment system. This helps Black Cat overcome the disadvantages that foam insulation caused to humans and the surrounding environment if it is done directly at the construction site. Concurrently, improve productivity and products many times, saving time for both investors and contractors, avoiding emissions of pollutants, avoiding occupying the construction area at the project thoroughly.
Leave Email or CALL US for advice on the most advanced cold insulation solution.
"We build Quality, Safety and Happiness"